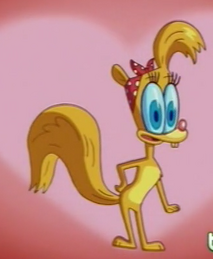 Darlene is introduced in "Pool for Love". Darlene wears a polka dot ribbon on her head and yellow fur and a hairdo. When Rodney fell in love with her, she's Rodney's friend and she likes Rodney. She enjoys swimming, ribbons, sap, sunrise, sunset, other furry animals, cooking, and flowers, especially Daffodils. She is hard to upset or anger, and is calm, gentle, and a sweet personality. Darlene is interested in the paranormal subjects, and uses horoscopes, zodiac signs, and meditation. She also looks partially like "Sandy Cheeks", from the Nicktoon SpongeBob SquarePants. Also, Darlene is terrified of bumper cars, due to a traumatic experience with them. Voiced by Monica Lee Gradischek.
Community content is available under
CC-BY-SA
unless otherwise noted.